Do you have a Patriot ancestor?
If you have a lineal connection to an ancestor who provided service to the cause of American Independence, you might be eligible to join the SAR.​
The SAR accepts service rendered, with some exceptions, for the period between 19 April 1775 and 26 November 1783.
Contact the Chapter Registrar
Charles Meagher is our chapter Registrar. Charles will assist you through the application process.
Phone: (404) 822-6428
Email: [email protected]
Submit your documentation
Family tradition is a good starting point for knowing if you have a Patriot ancestor. The birth certificates, marriage records, wills, census records and other documents will prove the lineage between you and your Patriot. The chapter Registrar will guide you with the records required and help you track down those hard to find, and sometimes very elusive ones.
Submit your application.
After you have gathered all the documentation, the next step is completing the application and submitting it for review.
FAQs
Q: Where can I find the documents I need to prove my Patriot ancestor?
A: Ancestry.com, Familysearch.org, the local library, genealogical and historical societies, courthouses are some great places to start
Member Renewal
If you are an existing member of the Robert Forsyth Chapter and ready to renew (fees are due by November 1st each year), follow the instructions below.
As of 2020, we are participating in a pilot project with the State Society to handle electronic dues payments through the State Society website. Here is the process to follow for that.
1. Go to https://gasocietysar.org/register and enter your information as requested.
2. After you submit your information, the State Society will review your details and send you an email.
3. When you have received the email, you may login to the State Society website and see a page similar to this.

4. When you select "Pay Dues" you will see a screen similar to this: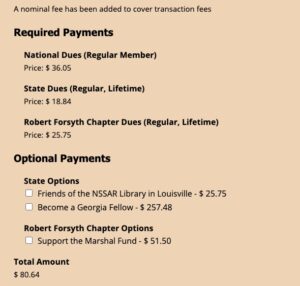 5. You may choose to add optional charitable donations to your annual dues payment. The State Society is supporting The National "Friends of the Library" program and the Georgia Fellows campaign. For those renewing with our chapter, you may choose to support the Marshal Fund. These are OPTIONAL choices.
6. Answer the CAPTCHA ("robot") if needed and choose "Pay Now"
7. If you are paying for a family member, you may choose "Pay Dues for a Family Member" from the main screen. You may also choose to pay "Dual Membership" fees from the main page. Note that any other chapters must also be in this pilot or you will need to pay via check to that chapter.
Paying by Check
If you choose to mail your check, the fees are as follows. Please put them all in a single check payable to "Robert Forsyth Chapter":
National Dues – $35
State Dues – $18
Chapter Dues – $25
—————————-
Total – $78
I would encourage you to consider becoming a member of the Friends of the Library, or our own Marshal Fund. Those memberships are $25 and $50, respectively. Those fees may be added to your check total. If you choose to do this, please let David know where the money should go.
Please send any checks to:
David Johnson
4725 Connie Mara
Suwanee, GA 30024
Send us a message if you are interested in more information about joining the Sons of the American Revolution.